The Beginning
The day started early, as both Peter and David departed from Providence, RI on the MBTA at 6:30 AM. The trip was long, tiresome, and coffee filled. They eventually arrived at Boston University at 8:00 AM after another ride on the Subway, and some walking along the way. Registration was very simple, and both Peter and David waited eagerly for the day to get underway.
At 9:00 AM, there was an introduction to the event by speaker Bobbie Carlton. Bobbie is an award-winning marketing, PR, and social media professional. She spoke of her experiences working with WordPress, and of the importance of marketing. After Bobbie's speech, it was time to move on to the sessions, which included categories like:
Using the Yoast SEO Tool to the fullest
The Fundamentals of Web/WordPress Accessibility
Mission-based WordPress
Local and staging environments for multi-person development that actually work!
The Sessions
With the sessions underway, it was hard to choose which ones to go to. The sessions lasted roughly 45 minutes, with 15 minute breaks in-between. During each 45 minutes time slot, you had the choice of one of three different categories. This increased the difficulty of the decision significantly.
After the first two sessions, it was time for lunch. Rather than staying for the lunch offered by WordCamp, Peter and David decided to go and get some of Boston's finer cuisine. They had their mind set on a French Restaurant, since seeing it on the way to the event, located right down the street. After a quick meal, they headed back to the event for more sessions, with stopping at the happiness bar first of course.
After lunch, it was time for the last two sessions of the day. Of those two sessions, "Local and staging environments for multi-person development that actually work!" was one that both Peter and David attended. They both found this extremely interesting, as it offered methods to using a test environment, rather than testing with a live site.
The Day
To sum it up, it was an awesome day. It was a great experience, and definitely something to look forward to, as it is an annual event. It is safe to say that both Peter and David will be attending WordCamp Boston 2016 next year.
TechCentric will be attending WordCamp Boston on July 18 and 19 at Boston University. As developers of WordPress sites for our clients we are always striving to stay abreast of the latest and greatest in the world of Web and Blogging platforms.
About WordCamps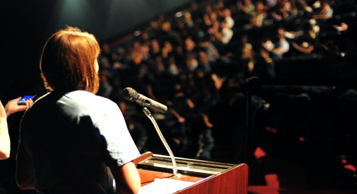 WordCamps are casual, locally-organized conferences covering everything related to WordPress, the free and open source personal publishing software that powers over 75 million sites on the web.
WordCamps come in all different flavors, based on the local communities that produce them, but in general, WordCamps include sessions on how to use WordPress more effectively, beginning plugin and theme development, advanced techniques, security, etc. To get an idea of the types of sessions typically seen at WordCamps, check out the WordCamp channel at WordPress.tv.
WordCamps are attended by people ranging from blogging newbies to professional WordPress developers and consultants, and usually combine scheduled programming with unconference sessions and other activities. For more information on common WordCamp elements, read about what to expect at a WordCamp.
The first WordCamp was organized in San Francisco by Matt Mullenweg in 2006, and since then local communities around the world have organized hundreds of others.